Tips for consumers
---
Sleep, but properly …
People spend approx. 1/3 of their lives in bed. A suitable duvet is an important prerequisite for restful sleep. However, there are different types of sleepers: some people sweat faster than others. Some may prefer the traditional duvet – the balloon duvet – others a flat one or a cassette duvet. It is important to find out the suitable duvet and / or pillow.
Warmth comfort is about the individual need for warmth, which varies tremendously from person to person. The external conditions can also be very different – some prefer to sleep in a cool room, some work and sleep in a (warmed-up) multi-use room. Experts recommend a cool temperature of up to 18 ° C and a dry indoor climate for the bedroom. Sleepers who should keep the bedroom cool if possible (during the day), but freeze slightly, can choose a warmer duvet to compensate. Duvets of the warmth classes light, medium, warm and extra warm are commercially available.
A perfect duvet should …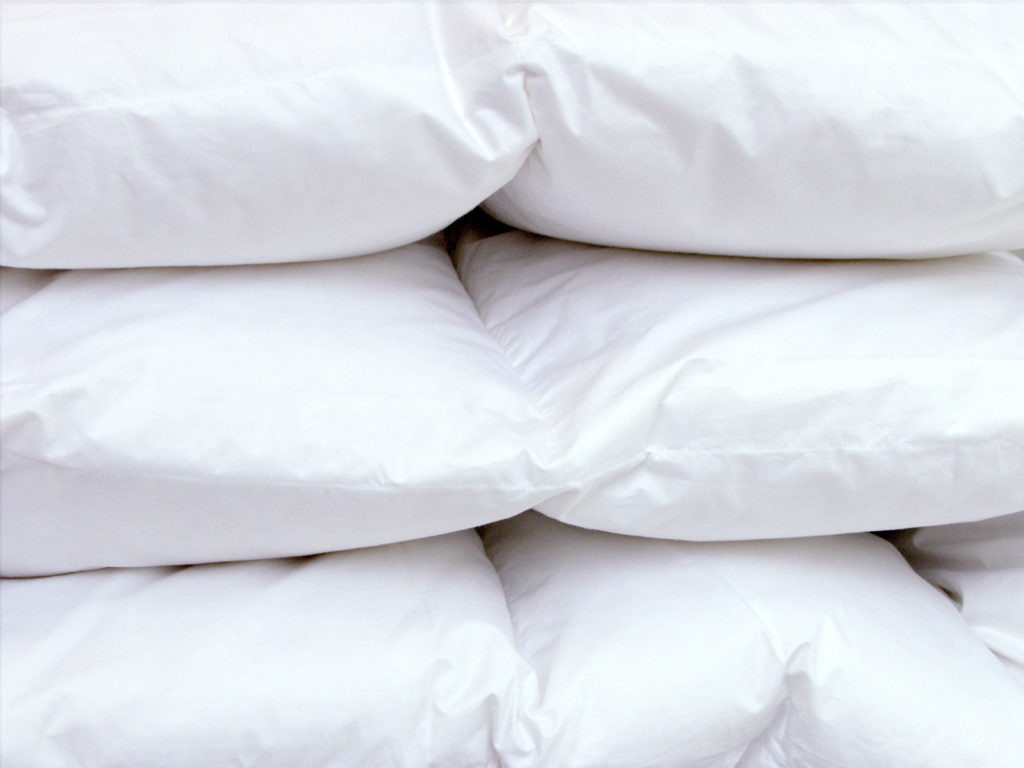 have good thermal insulation to protect the sleeper from the cold – but on the other hand it must not cause sweating (breathable),
absorb the moisture that everyone emits when sleeping and transfer it to the air (optimal moisture transport),
have a low weight – so as not to burden the sleeper,
be soft and smooth – so that cold zones are avoided,
comply with the specified measurements – a duvet or a pillow should be used to match the bedlinen,
perform adequate heat insulation in relation to weight (heat without weight),
show good workmanship – this applies e.g. for the seams,
for people suffering from dust mite allergy, it should be suitable for this group of people. Look for the NOMITE brand on bedding filled with down and feathers.
Pay attention to the labeling (label) and the different brands.
The labeling provides you with helpful information, particularly when it comes to the filling, which you usually cannot see.

It specifies the color and the origin of the feathers / down, whether they are new or reprocessed, the type of waterfowl (goose, duck) the feathers / down come from and, finally, the mixing ratio of feathers and down. Knowing this composition is particularly important, because down not only has a higher thermal insulation capacity at a lower weight than feathers, but is also considerably more expensive than feathers.
The proportion of down, e.g. in a duvet is one of the most important criteria for assessing its value – if the proportion of down is high, the duvet is generally more valuable and expensive than with a lower proportion of down (and thus a higher proportion of feathers).
Pillows require a filling material that is able to support ("cushion") the head permanently and – if possible – the upper part of the body during sleep. That's why a mixture of down and feathers is preferred.
Multi-chamber pillows, in which separate chambers are filled with down or feathers, are also popular. The feathers take on the support function, and the down filling ensures a pleasant sleep experience.

Maintenance, but properly …
Maintaining most feather and down filled bedding is easy. Here are a few tips so that you can enjoy your bedding items for a long time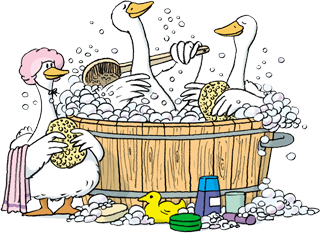 Ventilate your bedroom and your duvets regularly and intensively. This reduces the humidity in the room and in the bedding and creates a mite-unfriendly climate. Allergy sufferers should ensure that bedding is only ventilated at the open window or outside on pollen-free days.
Correspondingly labeled down and feather duvets can be washed at 60 ° C with a neutral mild detergent and then dried thoroughly in a sufficiently large tumble dryer. Make sure you use a detergent suitable for down, without brighteners and bleach; wool detergents achieve a good cleaning result.
Do not allow the bedding to overage. It is recommended to replace them with new goods every 8-10 years.
Duvets filled with feathers and down can also be checked, cleaned and refilled in specialist shops.
Maintenance recommendation of the German Textile Cleaning Association (DTV):
The German Textile Cleaning Association e.V. (DTV) recommends that summer and winter duvets should be cleaned once a year by a specialist. Pillows should be washed more often than duvets – people sweat more on their heads.